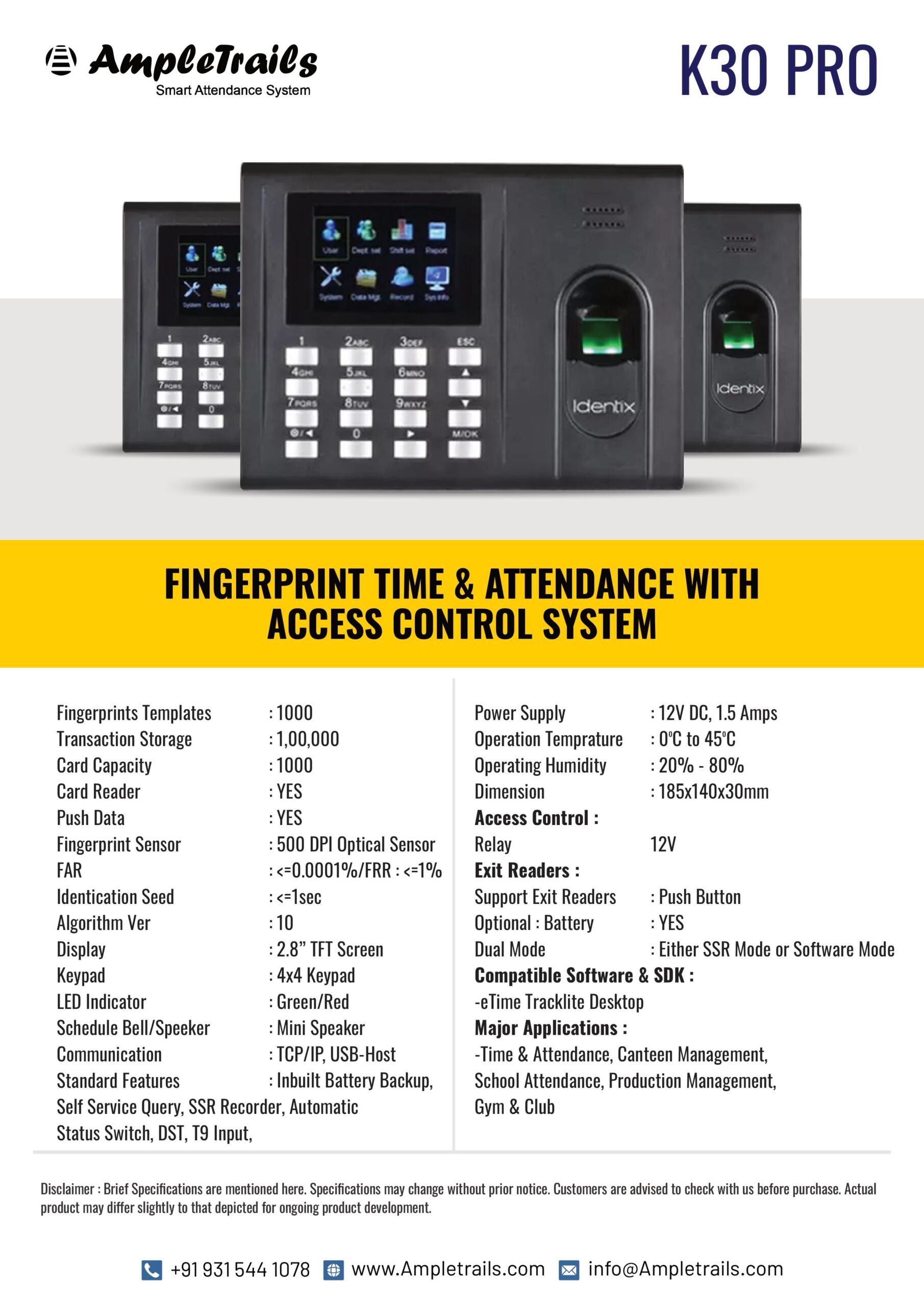 Biometric Attendance Machine
TECHNICAL SPECIFICATIONS
User Capacity: 2000
Fingerprints Capacity: 2000
Card Capacity: 2000
Transaction Storage: 100000
Push Data: Yes
Card Reader: Yes
Fingerprint sensor: 500 DPI Optical Sensor
FAR : <=0.0001% / FRR : <=1%
Identication Speed: <= 1sec
Algorithm Ver: 10
Display: 2.8" TFT Sceen
Keypad: 4 x 4 Keypad
LED Indicator: Green/Red
Schedule Bell/Speaker: Mini Speaker
Communication: TCP/IP, USB-host
Standard Features: Inbuilt Battery Backup,
Self Service Query
Status Switch, DST, T9 Input
POWER SUPPLY
Power Supply: 12V DC, 1.5 Amps
Operating Temprature: 0°C to 45°C
Operating Humidity: 20% – 80%
Dimension (in mm): 185 x 140 x 30
Access Control: Yes
Relay: 12V
Exit Readers: NO
Exit: NO TOUCH and PUSH BUTTON
Inbuilt Battery: yes
COMPATIBLE SOFTWARE & SDK
eTimeTracklite desktop & web
MAJOR APPLICATIONS
Time & Attendance , Canteen management, School attendance, Production Management, Gym & clubs
The K30 Pro is a biometric attendance machine developed by a company called AmpleTrails. It is designed to be used in workplaces such as offices, factories, and other business to track employee attendance. It uses advanced biometric technology such as fingerprint scanning, facial recognition, or RFID (Radio Frequency Identification) to identify employees and record their attendance.
The system includes a device that captures the employee's biometric data such as fingerprint or facial image, and a software that analyzes the data to confirm the employee's identity. Once the employee is identified, their attendance is recorded and the data is sent to the employer's time and attendance system for further analysis.
Benefits of using the K30 Pro include:
Increased accuracy: The advanced biometric technology used in the system is considered to be one of the most accurate forms of employee identification, which reduces the possibility of buddy punching.
Real-time data: The data is updated in real-time, which allows employers to monitor their employees' attendance in real-time.
Easy integration: The system can be easily integrated with other software and systems, such as payroll and HR software.
Cost-effective: The K30 Pro is cost-effective compared to traditional time and attendance systems.
Enhanced security: By using biometric technology, it can prevent unauthorized access to the restricted areas.
The K30 Pro is equipped with a 3.5-inch TFT color screen, which can display the date and time, and has a high recognition rate. It also supports live detection, and can work on low light conditions. The system can store up to 2,000 fingerprints and 1,00,000 records.
It's important to consider the security of the data when using this system and to ensure that the system meets the compliance needs of your organization.
biometric attendance device
office attendance machine
biometric attendance machine price in india
fingerprint attendance
attendance fingerprint machine price
attendance machine for office
fingerprint attendance system
finger print attendance
attendance machine fingerprint
biometric attendance system price
biometric machine price in india
biometric machine for attendance
attendance machine cost
attendance biometric device price
finger attendance machine price in india
biometric attandance machine
attendance fingerprint machine
fingerprint attendance machine near me
biometric attendance devices
pagarbook attendance machine
attendance biometric machine price
fingerprint attandance
price of biometric attendance machine
biometric attendence machine