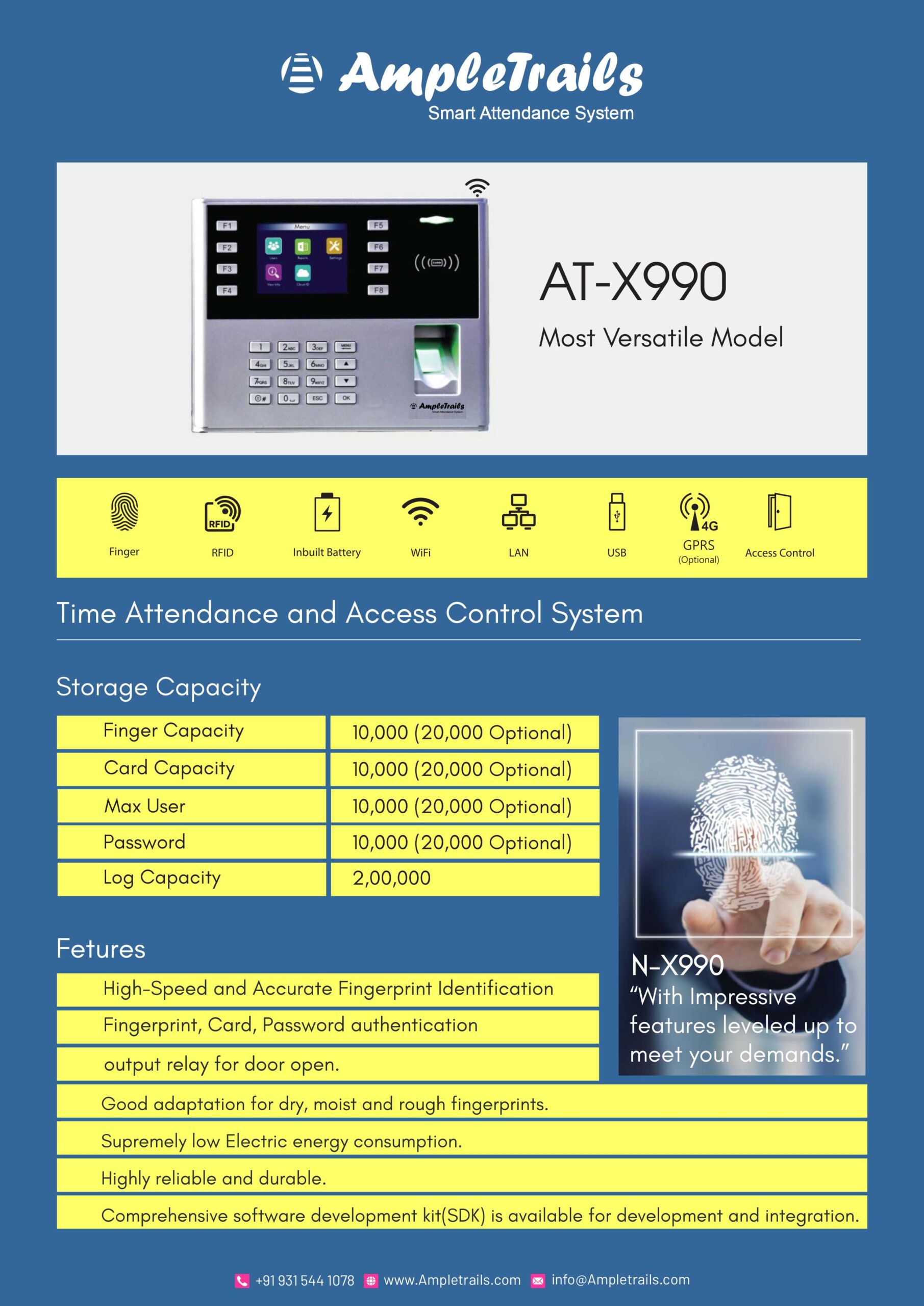 Fingerprint Time Attendance & Access Control
Finger Capacity : 10,000
Card Capacity: 10,000
Password Capacity : 10,000
User Capacity : 10,000
Log Capacity : 1,50,000
Communication
WIFI, TCP/IP, USB, RS232/485
Push Data : Yes
OS : Linux
Audio/Visual
LCD : 3″ TFT color screen
Voice instruction : 16-bit Hi-Fi voice & sound indication
Language : English
Biometric
4G GPRS : Yes (Optional)
GPS : Yes (Optional)
Printer : YES (Optional)
FAR : 0.00001%
FRR : 0.001%
Sensor type : 500 DPI
Identification Mode : Fingerprint, Card, PIN
RF card options : 125kHz EM (Standard) / 13.56MHz Mifare (Optional)
Access Control
Wiegand input/output : Yes
Relay : Yes
Support : RS485 Reader, Wiegand Reader, Remote, Push Button, No Touch
Power & Environment
Battery Backup : Yes (Optional)
Operating Temperature : 0°c ~ 50°c
Power : 12V DC / 2A
Dimension (L*H*W) : 215 x 160 x 45 mm
The Biomax N-X990 is a biometric time and attendance system that uses advanced fingerprint recognition technology to record employee attendance. This device can be used to track the attendance of employees working in offices, factories, and other workplaces. The system is designed to be easy to use and can be programmed to suit the needs of your organization.
The Biomax N-X990 features a 3.5-inch TFT color screen and can store up to 3,000 fingerprints and 1,00,000 records. The device can be connected to a computer via USB and can also be connected to a network for centralized data management. The device also supports live detection, and can work in low light conditions.
Some of the key benefits of the Biomax N-X990 include:
Increased accuracy: The advanced fingerprint recognition technology used in the system is considered to be one of the most accurate forms of biometric identification, which reduces the possibility of buddy punching.
Real-time data: The data is updated in real-time, which allows employers to monitor their employees' attendance in real-time.
Easy integration: The system can be easily integrated with other software and systems, such as payroll and HR software.
Cost-effective: The Biomax N-X990 is cost-effective compared to traditional time and attendance systems.
Enhanced security: By using biometric technology, it can prevent unauthorized access to the restricted areas.
It's important to consider the security of the data when using this system and to ensure that the system meets the compliance needs of your organization.