TECHNICAL SPECIFICATIONS
User Capacity: 800
Fingerprints Capacity: 800
Card Capacity: 800
Transaction Storage: 80,000
Push Data: Yes
Card Reader: Yes
Fingerprint sensor: 500 DPI Optical Sensor
FAR : <=0.0001% / FRR : <=1%
Identication Speed: <= 1sec
Algorithm Ver: 10
Display: 2.8" TFT Sceen
Keypad: 4 x 4 Keypad
LED Indicator: Green/Red
Schedule Bell/Speaker: Mini Speaker
Communication: TCP/IP, USB-host
Standard Features: Inbuilt Battery Backup,
Self Service Query
Status Switch, DST, T9 Input
POWER SUPPLY
Power Supply: 12V DC, 1.5 Amps
Operating Temprature: 0°C to 45°C
Operating Humidity: 20% – 80%
Dimension (in mm): 185 x 140 x 30
Access Control: Yes
Relay: 12V
Exit Readers: NO
Exit: NO TOUCH and PUSH BUTTON
Inbuilt Battery: yes
COMPATIBLE SOFTWARE & SDK
eTimeTracklite desktop & web
MAJOR APPLICATIONS
Time & Attendance, Canteen management, School attendance, Production Management, Gym & clubs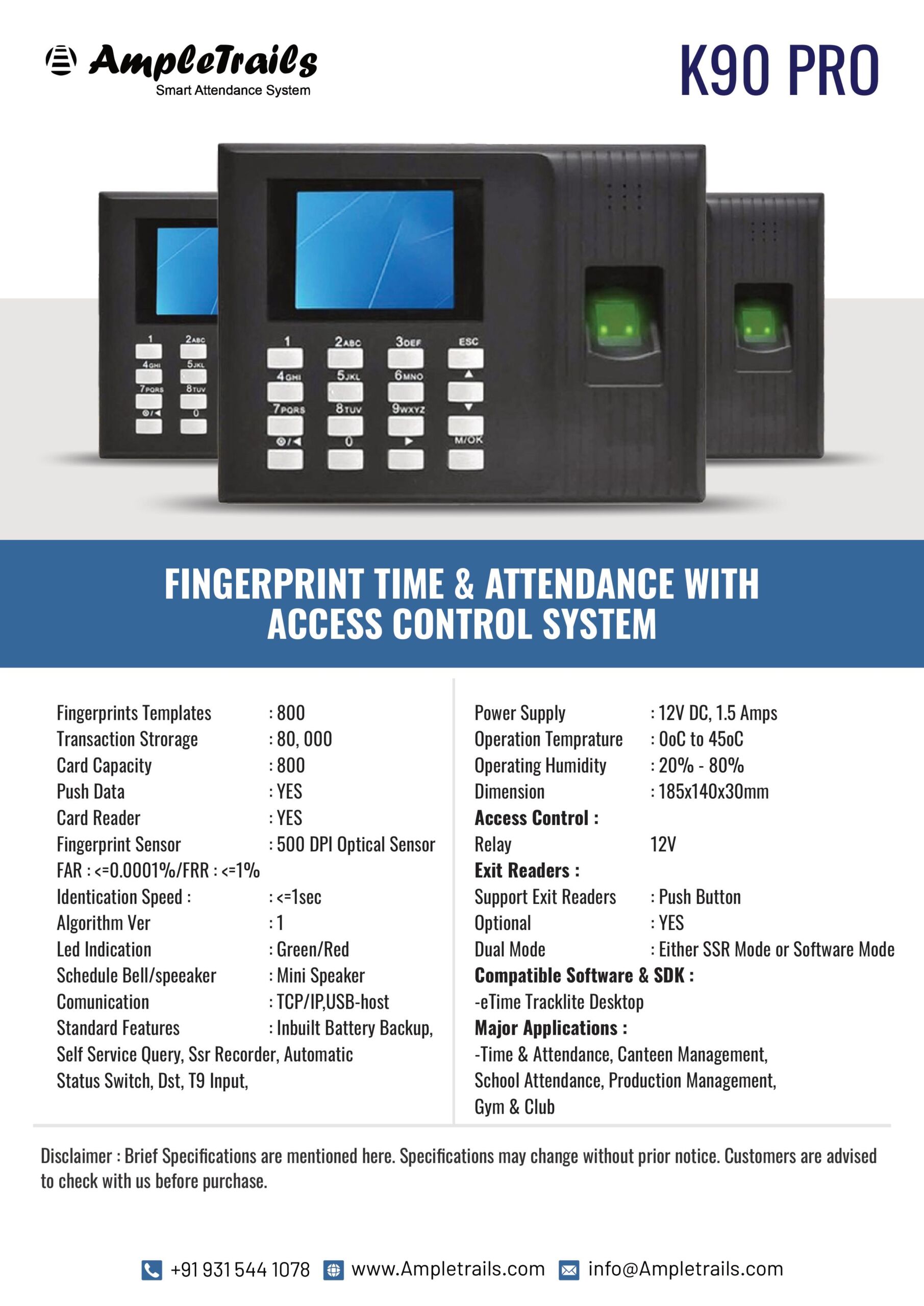 Specification:
Users 800 fingerprints, Card storage 800
Transaction 80,000
Inbuilt Battery Backup
Free attendance and payroll Software License Up to 500 Users From Digital Secure Solution
Support Access control solution
Revolutionize your workplace with AmpleTrails – an All-in-One Biometric Solution for SMEs!
Say goodbye to manual attendance tracking and hello to seamless management.
Our biometric device streamlines attendance, and payroll integration, and enhances access control.
Plus, with our user-friendly mobile app, managing it all has never been easier.
Join the future of workforce management today!
hashtag#attendance hashtag#payroll hashtag#accesscontrol hashtag#attendancemanagement hashtag#payrollmanagement hashtag#employeemanagement hashtag#workforcemanagement
| | |
| --- | --- |
| Model Number | |
| Backup Options | |
| LCD | |
| LCD Resolution | |
| Scratch Proof | |
| Multiple Languages | |
| Material | |
| Identification Method | |
| Fingerprint Capacity | |
| Card Capacity | |
| Power Requirement | |
| Identification Speed | |
| Type | |
| Model Name | K90 Pro (Inbuilt Battery) (New) |
| Card Type | |
| Key Type | |
| Display Type | |
| Communication Interface | |
| FAR | |
| FRR | |
| Suitable For | |
Finger/ Card Capacity: 800, Transaction Storage: 80000, USB Port: For transferring stored data from Biometric device to USB Drive., Major Applications: Time & Attendance, Canteen management, School attendance, Production Management, Gym & clubs, Keep your premises secure with access control feature of K90 pro-Biometric Punch in punch out device., High Speed and Accurate Fingerprint and RFID Card Identification
The technical specifications of this device indicate that it is capable of storing a large number of users (800), fingerprints (800), and cards (800) for access control. It also has a high storage capacity for transactions (80,000) and the ability to push data.
The device is equipped with a card reader and a fingerprint sensor with a high resolution of 500 DPI, which allows for accurate and reliable identification. The false acceptance rate (FAR) and false rejection rate (FRR) are both very low at <=0.0001% and <=1% respectively, which means that the device has a high level of security and is able to correctly identify authorized users while rejecting unauthorized ones.
The device also features a fast identification speed of <=1 second, an advanced algorithm version of 10, and a 2.8" TFT screen for clear display. It also has a 4×4 keypad and a green/red LED indicator for easy operation.
The device is equipped with a mini speaker for schedule bell, and supports communication via TCP/IP and USB-host. It also has standard features like inbuilt battery backup, self-service query, status switch, DST, T9 input.
Furthermore, the device is designed to operate in a wide range of temperatures (0°C to 45°C) and humidity levels (20-80%) and has a dimension of 185mm x 140mm x 30mm. It also has access control, relay and inbuilt battery features.