Biometrics Attendance System
Almost every organisation, business, and enterprise recognises the importance of monitoring and sustaining staff attendance. AmpleTrails time and attendance system gives employees in any company an exact clock-in and clock-out time to achieve operational excellence. AmpleTrails biometric attendance system offers a reasonably priced method of monitoring staff attendance and gathering statistics.
Time Attendance Management System - Real-Time Attendance Tracking
With only one mouse click, a biometric fingerprint attendance system makes it possible to keep track of every employee's attendance at your workplace.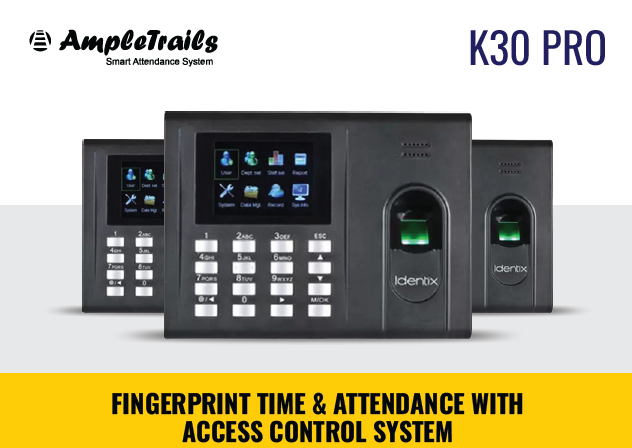 Biometric Attendance System
AmpleTrails offers a real-time biometric attendance management system in response to the market's expanding requirement for an advanced and precise attendance system. Our biometric attendance equipment helps businesses and organisations increase productivity and make the best use of their resources. The real-time biometric attendance systems used to track employee attendance also provide the potential to evaluate the return on man-hours invested.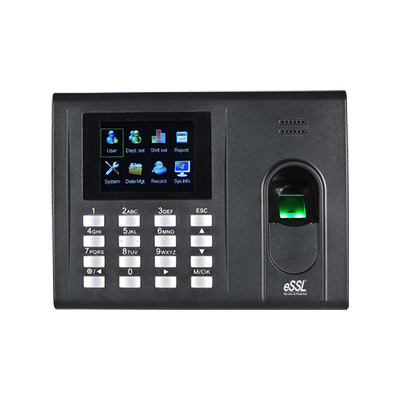 Our biometric time and attendance system not only improves workplace security but also protects the working environment and a company's sensitive data. Additionally, our attendance management system provides secure access control and authorisation by monitoring and maintaining each worker's entries and exits.
AmpleTrails exclusive time and attendance system offers businesses and enterprises a limitless attendance solution that is widely usable and accessible at various locations. Our biometric system recognises a person's physiological characteristics, such as their fingerprint, iris, and face detection, to record their attendance, preventing any manipulation at work through the use of a proxy.
Fingerprint Time & Attendance with Access Control System
Biometric Attendance System
The No. 1 Biometric Brand in India, AmpleTrails, provides a long-range Biometric Attendance System and Biometric Attendance Machine.
The biometric product consists of an IP-Based Biometric Attendance System, a Cloud-Based Biometric Machine, and a Biometric Attendance System that supports Aadhaar.
You have come to the right site if you're looking for a thumb attendance machine or other sort of attendance punching machine. Here, you can find a variety of biometric punching machines at the most affordable costs.
With only one mouse click, a biometric fingerprint attendance system makes it possible to keep track of every employee's attendance at your workplace. Every gadget has a different storage capacity depending on its characteristics. Each device is hence unique in it and fulfils its intended function.
For industrial businesses of any size with any number of employees, the biometric fingerprint attendance system is ideal. These devices also have a variety of operational modes and communication options.
The Attendance System can only be described as reliable and highly effective.


CENTRALIZED DATA
REAL TIME DATA
NO PROXY PUNCHING
ERROR FREE ATTENDANCE CALCULATION
CUSTOMIZED SOLUTIONS
PAN INDIA SERVICE SUPPORT
Most reliable Biometric Attendance Systems
What is the biometrics attendance system?
AmpleTrails proivdes biometric attendance system that helps it's customers in effeciently managing employee's attendance. It uses biometrics of a person such as fingerprint, face, palm for person identification.
Cloud Based Attendance System to access the data anytime anywhere
Generate employee attendance reports
Track employee attendance in real time 
Centralized data collection from multiple locations
Monitor and track individual employee attendance
Shift based Time Attendance System
Offers low cost of ownership
Rapid deployment
Integration with HR management and Payroll Software